Although highly-paid doctors were played up in major newspapers after the Medicare data release, a lot of useful information about hospitalists has been ignored.
After Medicare released a treasure trove of provider payment data, media outlets such as The Wall Street Journal and New York Times, published pieces focusing on the tiny sliver of doctors accounting for an outsize portion of Medicare's 2012 payments.
CMS has already listed several data limitations on its website. Further, AMA has made its feelings known even before and soon after the data release in a letter to CMS according to the CNBC story.
While the AMA's objections clearly have merit, in my opinion the alleged data limitations do not render the information so worthless so as to prevent drawing any meaningful conclusions.
There is a wealth of demographic, utilization, and payment related information available for the very first time in the data release, particularly as it relates to hospitalists.
Deconstructing a Hospitalist
Information related to hospitalists has always been somewhat suspect.
Until now, many things we thought we knew about hospitalists (primary care physicians who provide care to patients in the hospital) have been based on anecdotal information, statistically questionable surveys, or incomplete membership information.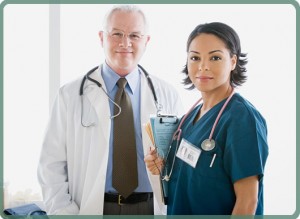 Unfortunately, there is no "hospitalist" designation in the enormous data release because physicians are listed under Internal Medicine or Family Practice or General Practice.
However, there is enough information in the Medicare data release to reliably isolate hospital-based services based on the entity code, place of service, and provider specialty along with 20 specific CPT codes (registered trademark of the American Medical Association) predominantly used by hospitalists in a hospital setting for observation, inpatient, and critical care.
Using this methodology, I compared the number of hospital-based services provided by each independent physician belonging to Internal Medicine, Family Practice, or General Practice in a facility setting to the total number of services provided by the same physician.
Physicians who provided more than 50% of their total services under the 20 CPTs commonly associated with hospitalists were categorized as "hospitalists" and the rest were classified as "traditionalists."
Further, by overlaying physician work RVU (wRVU)—representing the relative level of time, skill, training and intensity to provide a given service—associated with each CPT code, the services were converted to a more standardized and consistent wRVU metric, which is a predominant factor in physician compensation.
Key Findings
A detailed analysis of the 2012 Medicare data using the methodology outlined above revealed the following key findings:
Numbers: Hospitalists were outnumbered by traditionalists. There were 37,983hospitalists and there were 41,622 traditionalists.
% of Services: Of the 51.6 million hospital-based services, 67% were provided by hospitalists—twice as many services as provided by traditionalists.
% of Work: Hospitalists often exclusively provide hospital-based services so it should come as no surprise that the 20 hospital services comprised 87% of all the services for hospitalists and only 12% for traditionalists. This bolsters the hospitalists' claim that greater experience in a hospital setting makes them more efficient providers.
% of Females: The percent of hospitalists that are female stands at 35% compared to only 24% among traditionalists. The difference may exist because of the location where hospitalists may be more common or because of women's desire not to be spread themselves too thin as a traditionalist working in both inpatient and outpatient environments.
Uptake by State: States with a minimum of half a million hospitalist services and 75% or greater hospitalist uptake are: Nevada, Washington, Arizona, Massachusetts, North Carolina, and Virginia. States lagging with 60% or less in hospitalist uptake are: Alabama, West Virginia, New Jersey, Mississippi, Illinois, Arkansas, Kentucky, Louisiana, and Indiana.
Specialty: Internal Medicine specialty dominates the hospitalists with 84% belonging to it compared to 58% of the traditionalists.
Workload: The average Medicare workload for a hospitalist was 910 services or1,759 wRVUs compared to 409 services and 748 wRVUS for a traditionalist. It is important to remember that this workload only represents Medicare patients and does not include Medicare Advantage or private-pay patients.
Coding Levels: The highest level admission code (99223) was used 66% of the time as opposed to 99221/99222. For subsequent care middle level code (99232) was used 62% of the time compared to 99231/99233. Generally, hospitalists were more prone to using higher levels codes compared to traditionalists, possibly reflecting sicker patients under their care. .
Charge Mark-Up: Hospitalists marked up submitted charges at 204% (more than twice) of the Medicare allowed amount compared to traditionalists who submitted charged at 171% of the Medicare allowed.
Paid vs. Allowed: Both hospitalists and traditionalists were reimbursed 79% of the allowed amount. In other words, the an additional payment of 21% for deductible and coinsurance amounts would have been due from other sources, including patients.
Paid Amount: Medicare paid $3.93 billion for hospital services provided by hospitalists and traditionalists with 68% of it going to the hospitalists. It is important to remember that Medicare payments represent only a portion of the full revenues (notprofits) because physicians also bill private insurers and other payers.
Payment Rate: The payment rate per service was $76. Because services can range from 99231 (at $30) to 99291 (at $174), a better way to look at the payment rate is per wRVU, which was $40. The allowed rate per wRVU was $51.
Gender Gap?: Despite the headlines regarding Gender Pay Gap, the amount paid per wRVU was virtually identical for female and male physicians at $40 indicating that the difference in total amount paid to men vs. women is explained by the volume or number of wRVUs submitted rather than the reimbursement rate.
Conclusion:
The demographic, utilization, and payment data provides unprecedented insights into the heretofore loosely-defined "hospitalist" profession.