In a WSJ story called "Hispanics Gain at California Colleges," Miriam Jordan reports that The University of California (UC) has admitted more Hispanics than whites for the first time.
The story reports that Latinos accounted for 28.8% of the 61,120 Californians admitted for this fall's freshman class at the UC system's nine undergraduate campuses, up from 27.6% last year and topping the 26.8% share of whites.
While that is definitely a noteworthy development, the story left something to be desired: As always, looking at the numerator without attention to the denominator can lead to erroneous conclusions.
Although the WSJ story recognizes that Hispanics represent California's largest ethnic group and reports the ethnic composition of 15-19-year-olds in California, it doesn't quite finish the thought or the calculation.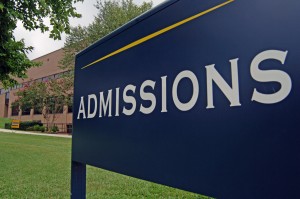 So, I decided to finish it myself! I created a table based on the info in the WSJ story, CA Dept of Finance data, and filled in some blanks for "other" ethnicities because the percentages didn't add up to 100% otherwise.
All of a sudden, these numbers show in a very different light! Hispanics are at the bottom when you consider their percent representation compared to the other ethnicities.
| | | | |
| --- | --- | --- | --- |
| | UC Freshman | Ethnic Composition 15-19 year | % Representation |
| Hispanics | 28.8% | 49.4% | 58% |
| Whites | 26.8% | 29.2% | 92% |
| Asians | 36.2% | 10.9% | 332% |
| Black | 4.2% | 6.0% | 70% |
| Other | 4.0% | 4.6% | 87% |
| | 100% | 100% | |
That left me wondering about a few questions, such as:
 How has the % Representation changed over time?
 What effect has California's prohibition of consideration for race or ethnicity (Proposition 209, the 1996 ballot initiative that amended the state constitution) has had on % Representation?
 How do these percentages look over time at the state's most competitive schools, UC-Berkeley and UCLA?
Answers to these questions are important because things may be changing. A Washington Post blog said that California voters could decide this fall whether to allow state universities to consider the race, gender, color, ethnicity or national origin of applicants when deciding admissions.
According to the blog, State Sen. Ed Hernandez, a Los Angeles Democrat and lead sponsor of the bill, said the percentage of minority students in the University of California and California State University systems has declined precipitously since Proposition 209 had passed.
Stay tuned!