Who doesn't want to grow their professional network? But do you find yourself in the clutches of LinkedIn email spam grab and don't know how to extricate yourself?
Bloomberg has reported that some LinkedIn customers have filed a lawsuit alleging that LinkedIn hacked e-mail addresses. The existing users have no way to stop the process, the plaintiffs said according to the story. One user said that LinkedIn contacted more than 3,000 people including those copied in on e-mail messages. Another estimated that LinkedIn used as many as 200 names and e-mail addresses of his contacts—including those of several old girlfriends he had forgotten to delete—inviting them to connect with him on the site. Oops!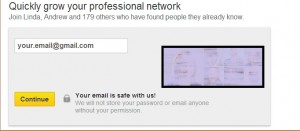 It gets worse. LA Times story recounts a retired FBI agent and private investigator's clients including those the Agent/PI had investigated—basically everyone in the address book—received an email.
How is that possible? The NY Times piece said: "Instead of asking you to opt in by checking off which specific contacts you want to invite, LinkedIn requires you to opt out by unchecking the "select all" button. If you are not careful, hundreds of invitations can go out — no second thoughts or cooling-off period provided."
Sound confusing? It is probably meant to be.
However, in response to the lawsuit, Blake Lawit, Senior Director, Litigation at LinkedIn, issued a denial: "We do not access your email account without your permission. Claims that we "hack" or "break into" members' accounts are false." He further stated, "We never send messages or invitations to join LinkedIn on your behalf to anyone unless you have given us permission to do so."
All the legalese and how, what, and when LinkedIn does what it does aside, the question as to how to revoke the permission granted to LinkedIn remained essentially unanswered for me. As the NY Times piece confirmed, "Regardless of the claims in the lawsuit, there is no doubt that LinkedIn makes it awfully easy for you to send an invitation to connect to everyone you have ever e-mailed and much harder to revoke that permission."
As a matter of fact, I have not been able to find out how to revoke permission in LinkedIn. However, here is what I found out if you have a Gmail account. Google allows you to share information from your Google Account with third-party websites without revealing your username and password. You can revoke this access as follows:
To manage your connected apps on your desktop, sign in to the Google Accounts homepage
Click on Security at the top of the page
Click on View all in the Account permissions box.
You'll see a list of the third-party sites you selected to always approve for Google authentication. If you see something on there that you don't use anymore, you should click to Revoke Access.
When I followed these steps, I did find that LinkedIn was permitted! After clicking the "Revoke Access" button, I am hoping that it cuts off any third-party access to my address book.
If nothing is listed, you will see a message saying: "You haven't granted any apps or websites access to your Google Account."
More information about sharing your data with other sites can be found at: https://support.google.com/accounts/answer/143031?hl=en&ref_topic=2665423
Happy professional networking without accidental spam!