For the first time, Centers for Medicare & Medicaid Services (CMS) has released a public data set with information on services and procedures provided to Medicare beneficiaries by physicians (aka Doctor-Pay) and other healthcare professionals.
In 2012, Medicare paid $77.4 billion to more than 880,000 doctors and other health care providers. Eight states (CA, FL, TX, NY, NJ, IL, PA, and NC) accounted for 51% of the total payments.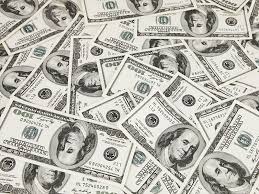 In Arizona, Medicare paid $1.3 billion to more than 15,000 individual doctors, with the rest paid to companies, including clinical laboratories, ambulance service suppliers, and ambulatory surgical centers.
Medicare payments represent only a portion of the full revenues of a physician's practice because physicians also bill private insurers and other payers.  For certain specialists, the cost of expensive equipment and/or drugs may be included into the payments doctors receive. In other specialties such as hospital-based internists, physicians may work as locums and actually get paid under another physician they are substituting.
Notwithstanding these and other data limitations, which doctors are getting paid how much from Medicare in Arizona?
Consistent with national trends, top 2% of the doctors accounted for 24% of the Medicare payments in Arizona. Because vastly different numbers of doctors can work in different specialties, merely looking at the total payments can be misleading. In terms of number of doctors in the top 2%, five specialties dominated this select list of 313 doctors as follows:
| | | | |
| --- | --- | --- | --- |
| ARIZONA – Top 2% Docs Only | | | |
| Specialty | # of Doctors | Total Medicare Payments | Avg. Medicare Payment Per Doctor |
| 1. Ophthalmology | 46 | $54,686,707 | $1,188,841.46 |
| 2. Radiation Oncology | 40 | $45,378,763 | $1,134,469.07 |
| 3. Hematology/Oncology | 36 | $42,721,919 | $1,186,719.98 |
| 4. Cardiology | 47 | $34,408,698 | $732,099.97 |
| 5. Dermatology | 31 | $27,410,198 | $884,199.92 |
| Other | 113 | $104,509,163 | $924,859.85 |
Top 10 Doctors in Arizona
The 10 highest-paid doctors in Arizona each received Medicare payments in excess of $2.5 million in 2012.
SAAVEDRA, EGBERT – TUCSON – Ophthalmology               $4,364,977
WALSH, MARK – TUCSON – Ophthalmology                        $3,964,410
JAVID, CAMERON – TUCSON – Ophthalmology                  $3,348,891
HARRIS,  APRIL – TUCSON – Ophthalmology                        $3,343,206
RAKKAR, AMOL – GLENDALE – Hematology/Onc                $3,087,798
VRANIC, MITAR – MESA – Vascular Surgery                         $2,991,155
ISAACS, JEFFREY – PHOENIX – Medical Oncology             $2,808,139
BHALLA, RAVI – PEORIA- Rheumatology                                $2,800,399
GERSTNER, GREGORY – TUCSON – Hematology/Onc      $2,629,974
CANTY, THOMAS – PHOENIX – Radiation Oncology           $2,597,257
"Outlier" Doctors
Payments vary greatly depending on the physician specialty. More than 1,559 doctors in Family Practice in Arizona received $50,032 in average payments and provided 1,224 services, whereas 1,776 doctors practicing Internal Medicine received $91,407 in average payments for 1,687 services in 2012. At the other extreme, 274 Ophthalmologists received $363,748 in average payments and provided 3,483 services, whereas 87 doctors practicing Radiation Oncology received $626,465 in average payments for 4,662 services.
To determine "outliers," we calculated average payment received and average number of services provided for each specialty. And then we compared physicians to peers in their own specialty for an apples-to-apples comparison. We identified top 258 doctors, across various specialties, who received payments that were 5 to 42 times more than the average payment for their specialty in the state. On average, the number of services these doctors provided were nine times that of their same-specialty peers. Of course the service mix could vary from doctor to doctor in the same specialty.
Click on the following table to see the 25 doctors who were at the top of the "outlier" list for having the highest Payment Factor—defined as Medicare payment received by an individual doctor divided by the average payment among same-specialty peers in Arizona: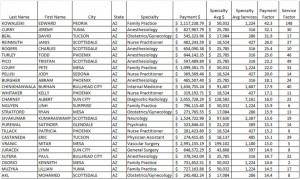 Clearly, there are many factors including practice setup, location, place of service (facility vs. outpatient), patient population, and severity of disease that can skew the payment data. But an individual doctor receiving payments 10+ times more than his or her peers working in the same specialty is akin to a major league batter hitting .750 when the MLB average in 2012 was .255 over more than 165,000 at-bats.  (Nobody has ever come close to accomplishing that—even during the steroid era!)
The data limitations have been well-documented and even explained by CMS in its methodology document. The exceptions cited in the WSJ story for medical homes and more expensive procedures to avoid more invasive tests later are valid, but I don't agree on the following points:
1) Exceptions: Are we to assume that all family practice doctors, even those being paid 5-10 times than their average peer, are running medical homes or that all cardiologists are doing PET imaging? That must not be the rule.
2) Overhead or Facility: How do we explain "overhead" when the place of service for many of the specialists is the facility. In those situations, I doubt if they are incurring the stated practice overhead as reported in the WSJ story. For example, I looked up a Nephrologist ($347K Medicare payment) who has an office, and either office visits or initial/subsequent hospital care  accounted for a majority of his payments. In such cases, which I believe are very common, I don't buy that 46% of his actual reimbursement went toward expenses and overhead, especially if he does not buy and administer expensive drugs or own his own expensive dialysis or other equipment.
3) Partial Payments: The amounts Medicare reported as paid are after deductible and coinsurance amounts have been deducted. This means that doctors received payments for deductible and coinsurance in excess of the reported Medicare payments. My estimate is Medicare pays about 80%. If true, these payments are understated by as much as 25%. I have not seen this fact reported by any of the major media outlets.
4) Quantity vs. Quality: Although the quality of services is not reported the sheer volume of services in some cases is astounding. For example, Dr. Burhan Chinikhanwala (interviewed in the Arizona Republic story) in Bullhead City gave 30,000 Tocilizumab injections to 11 patients at $2.80, Abatacept injections to 20 patients 10,075 times at $16.13, and 17,090 Infliximab injections to 75 patients at $50 (according to NYT and WSJ interactive graphics). I am no Rheumatologist, but how is that even possible? Also, we don't know the cost of these medicines to him, but it raises three questions: 1) Were these injections really needed or does everyone get it? 2) How can so many injections be justified, especially to so few patients? 3) Assuming the patient number is somehow inaccurate, how can one doctor see so many Medicare patients in addition to all the other Medicare Advantage and private-pay patients without burning out?
5) Complexity/Self-Referral: As far as the "complexity" argument of Dr. Fernyhough in the WSJ story, I am not so sure either. Having run a medical practice for hospitalists, I know that Medicare rules allow a doctor to bill for others' services in case of locum physicians (for 60 days or so) and nurse practitioners directly supervised by the doctor. Same goes for attending doctors billing for residents and fellows. Physical Therapist, however, is a legitimate provider type. I don't understand why Dr. Fernyhough would bill six of his office physical therapy staff under his own NPI rather than the NPIs for the staff if they provided the PT service. More importantly, it also raises an interesting question about self-referral related to physical therapy. Is it a Medicare requirement for orthopedic surgeons to also provide physical therapy in-house?
All in all, this data release is a great first step (kudos to WSJ for fighting for it) because it is forcing all of us to dig deeper and ask some very important questions.